EASTERN COASTAL PLAIN

Professor A Vaidyanathan

Professor Vaidyanathan is an eminent agricultural scientist, whose area of specialisation is management of tanks. He led the study conducted by the Madras Institute of Development Studies, that has made a case for the renovation of tanks, traditionally
managed by the communities in South India to mitigate water crisis in urban as well as rural areas. Vaidyanathan=92s publication, Tanks of South India, that takes an in-depth look at these issues has wide acclaim. At present, he is the chairperson of the Tamil
Nadu unit of the National Water Harvester's Network. Formerly, he held the post of chairperson, government of India, Planning Commission Committee on Irrigation Pricing (1992) and Member, government of TamilNadu, High Power Committee on
Wasteland and Watershed Development (1996) as well as Chairperson, Indian Society of Agricultural Economics. He has written books like India's Agricultural Development in a Regional Perspective, Performance of Indian agriculture since Independence in Agrarian Questions: Water and Resources Management: Institutions and Irrigation in India by Kaushik Basu (ed.).

For details:
Professor A Vaidyanathan
B-1 Sonali Apts
11 Beach Road
Chennai 600090
Ph: (044)24919607




C R Shanmugam




C R Shanmugam, a civil engineer, works as a project consultant for Dhan Foundation, a Madurai-based NGO. He has revived about 20,000 300-1,000-year-old water tanks, which are now managed by people in villages across Tamil Nadu. The tanks recharge groundwater, besides ensuring water for irrigation. "A man with a vision and wisdom" is what people say about him. But, in all humility, Shanmugam believes he is "only a cog in the wheel".

Devendra

Devendra, who is in his 60s, is the president of the Kedar Village Tank Farmers Society in Tamil Nadu. The society was formed in 1989 and there are around 217 members working with it from 13 different communities. The society operates and irrigates an area of approximately 119 hectares. The Centre for Water Resources, Anna University, gave the society Rs 27.6 lakh for research in 1990. After forming the society, they collected Rs 40,000 as seed money and the government also pitched in with a grant of Rs 50,000 for the work. The society designed the structures themselves and constructed a 1.5 km long road all along the canal to maintain it and also to mobilise their vehicles and machines for their fields. This reduced the cost of transportation and the villagers could save 50 per cent of the cost of harvesting.

Initially, the society collected money from the villagers. Then the Irrigation Management Training Institute, Trichi, gave them a generous grant, which the society has kept in a fixed deposit and the interest on it is used for maintenance purposes, which comes to about Rs 30,000 a year.





Devendra says, "Before the intervention of the society, small farmers did not get water because big land owners took a long time to irrigate their land. The society intervened and constructed an earthen sub-channel so that the water reaches both the small and big landowners."





Initially, the society did face difficulties. Water channels were being damaged. This was checked by the active cooperation of local people who fixed a fine of Rs 100 for such irresponsible acts.



People reported an increase in the productivity of their lands due to the availability of water even during the drought period. This has drastically changed their economic status.




E R R Sadasivam


E R R Sadasivam is the owner of a 'tree museum' in Elur village in Coimbatore district of Tamil Nadu. Spread over 30 ha, the museum houses over 100 species of trees and also hyenas, wild cats, jackals and peacocks. When he inherited this property in 1950, it was just a barren patch of land. It was his hard work, with the assistance of the villagers, that transformed it into what it is today. 112 villages are now enjoying the benefits of this hard work, with all the barren land being converted to woodlands, and that too, without any financial assistance. For Sadasivam, profit is not the driving force. According to him, happiness lies in making people understand the value of trees. To his peers, he is a 'national asset', and rightly so.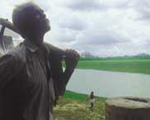 Ganesan

Ganesan


Ganesan manages the water supply of Madaivini Patti, a tiny locality on the outskirts of village Vairavan Patti in Madurai district, Tamil Nadu. He is a neerkatti (irrigator).

Ganesan believes that if effective, kanmoy (tank) management is crucial to social harmony. He knows the topography of his village at the back of his hands. He knows exactly where the water comes from and where it should go. He knows the water needs of each and every farmer. He maintains the kanmoy embankments and operates the sluice valves that release water in the channels.

Ganesan is poor. In exchange for maintaining the channels and the kanmoy, he receives rice from each farmer in proportion to the field size (4.5 kg of rice per 60 cents of crop area). In addition, he gets 4 kg of rice from each farmer for operating the sluice valves. For Ganesan, however, work in the village is restricted to the monsoon. For the rest of the year, he has to look for daily wage work either as an agricultural labourer or as a loader in the nearby towns. Sometimes he manages Rs 50 a day, sometimes even less than that.

Ganesan's two sons and four daughters are not interested in carrying on with the neerkatti tradition. But as long as there are paddy fields, the limited water will need to be managed with care. There will have to be a neerkatti.


Vasimalai M P
M.P. Vasimalai is Executive Director of a national NGO, Professional Assistance for Development Action (PRADAN) in India. After his graduation in Agronomy, he served for two years on an irrigation research program with Tamil Nadu Agricultural University. Subsequently, he completed management studies at the Indian Institute of Management, Ahmedabad. He worked with a Gandhian NGO to actualize the self-governance of villages by promoting people organizations and facilitating the implementation of poverty alleviation programs by village assemblies. He was involved in enhancing the capacity of NGOs in natural resource management for more than a decade. He is a member of a national advisory committee to the Water Resources Ministry whose goal is to build farmers' stakes in Government programs. He is currently involved in Institutional development of people-based economic organisations. He provided
advice to field operations in natural resource management enterprise
promotion and rural women's credit programs.






Meet Urban water harvesters
<<back