We are launching a new site on Rainwater Harvesting and Lake Revival
CSE has been promoting the concept of water harvesting, particularly in urban areas, as a technological solution that can be adopted by all. CSE's campaign to promote water harvesting began with its in-depth research on India's rich traditions in using rainwater for a sustainable, participatory and equitable management of water. The research culminated in the book, Dying Wisdom: Rise, Fall and Potential of India's Traditional Water Harvesting Systems. CSE has compiled a database of NGOs and individuals knowledgeable about water harvesting across the country. In 2001, CSE published another book, Making Water Everybody's Business: Policy and Practice of Water Harvesting, which captures numerous case studies of village communities involved in water harvesting both in India and abroad.

For urban audiences CSE's programme to build model institutions shows people how rainwater harvesting is done. In order to create awareness among opinion and decision-makers, CSE provided them with easily understandable briefing papers that explained how policy options can be developed and implemented. CSE recently published a toolkit on urban rainwater harvesting, Catch Water Where It Falls - Toolkit on Urban Rainwater Harvesting. CSE also runs free consultancies for the communities and help them to plan and design rainwater harvesting.

Apart from this CSE is also working on wetland conservation campaign. Wetlands are vital sponges in the city. They prevent flood and recharge groundwater. Along with being an aesthetic entity, they provide social, economic and environmental beneficiaries. In the past CSE reported and brought together people who are concerned with the protection of these water bodies. CSE has been facilitating a forum where the lake protectors can come together to learn from each other. The organisation has created a database of these endangered waterbodies, collected information on how people are fighting for the restoration of these lakes in courts and is also bringing people together through meetings. CSE has also compiled successful case studies of lake revival across India.



View in a Larger map
Find Your Lake!
If you like us to add any further information about a lake/wetland
Please come back to this page after few weeks for more updates
J A L S W A R A J C A M P A I G N

A campaign for participatory, equitable and decentralised paradigm for water management with the objective of making water everybody's business.
more>>
G R A S S R O O T I N I T I T A T I V E S

The farmers of Ambaredi village boast of their lush green fields and full brim river even during the dry months of the year. Village Ambaredi in Jamkandorna taluka experienced a complete changeover from dry agricultural land to lush green fields only after 2000.

Read More>>
---
Urban Water Supply
Demand for water is growing in most cities as every urban citizen requires almost double the amount of water that a rural citizen requires. Moreover, India is rapidly urbanising.

Urban population in India has grown almost five times in five decades from 1951 (62.44 million) to 2001 (286.08). Not long ago, most of our cities were self sufficient in meeting their water needs from the extensive urban water bodies to supply water to citizens. Today these water bodies have completely disappeared. Municipalities have been stretched to their limits to find water for the growing urban populations. Groundwater is being extracted by the government as well as the private parties.


JOIN THE NATIONWIDE RAINWATER HARVESTING DATABASE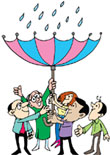 Counting the raindrops

CSE needs your help to create a nation-wide database of Urban Rainwater Harvesting structures and practitioners, which can be accessed by all online.
Please fill in this simple form to add your project to the database.
BEST RAINWATER HARVESTER'S AWARD

DJB announces Best rainwater harvester's award

In a bid to encourage the rainwater harvesters and acknowledge the efforts of those contributing to it, Delhi government announced the Chief Minister's "Best Rain Harvester" award. The award carries Rs. 2 lakhs and a citation in Category- I (Institutions and Housing Societies) while under category-II (Individuals) can get hold of Rs.1 lakh and a citation.

For more details see TOI dated [3.01.2006] or Click here>> [pdf]
E V E N T S
Traveling Film Festival in Orissa: Environment-Beyond Trees And Tigers
[Nov. 30 - Dec. 1, 2005]
more>>

Seminar for teachers on Environment Education at Megpai, Faridabad
[Dec.13, 2005]

W A T E R I N N E W S
MOEF releases draft of the National Environment Policy
India's second Raincentre comes up in Meerut
T E C H N O L O G Y
RWH techniques in the northeastern hill ranges
Sari to harvest rain!
Chauka Magic in central highlands
D O W N L O A D S
National Environment Policy, 2004

Abridged version of Pani Ghano Anmol- findings of survey on water resources in Meerut
A guide map on hydro-geology of Chennai
Water profile of Thiruvananthapuram
Water profile of Kolkata