Anna Hazare

Anna Hazare


Anna Hazare is one of India's most noted social activists. A former army jeep driver and Ramon Magsaysay Award winner, Anna is respected as the man who turned the ecology and economy of the village of Ralegan Siddhi around. The village has become a model of rural development through the implementation of government schemes designed to uplift the rural poor. Thus, his name is synonymous with rural development and people's power.

Hazare made the headlines in May 1994 by undertaking a protest fast at the Sant Dyaneshwar temple at Alandi, Maharashtra. Earlier, the same month, he launched the Bhrastachar Virodhi Janandolan (People's movement against corruption), after having returned his Padamshree (a high state honour) in April.

In 1998, he was hauled to court on a defamation suit filed by then Maharashtra social welfare minister Babanrao Golap. After a few days in jail, public uproar led to his release.
He is a staunch Gandhian.



His watershed management style is as follows:




Conservation of water

Voluntary spirit

Self-reliance

Education

Social upliftment

Women's emancipation

Participation of youth

Consensual politics

Prohibition

Family planning

Ban on felling of trees

Ban on open grazing

More on Ralegan Siddhi

For details:
S Anna Hazare
Ralegan Sindhi
Ahmednagar-414302
Tel-02488-40277,40224 (fax)

Ashwini Bhinde


The people of Nagpur district, Maharashtra joined hands with their local administration and successfully harvested 11,000 billion litres of rainwater at virtually no cost. Their initiatives pushed away the usual water scarcity by at least three months.

September 12, 2001 arrived with a new dawn, when Ashwini Bhide, a lady IAS officer in Nagpur's zilla parishad agreed to implement rainwater harvesting in her area at the suggestion of Mohan Dharia, who is working with Vanrai, a Pune-based non-governmental organisation. Within a short span of five days, she not only organised a training workshop for her colleagues working at the grassroots level but also placed a system of checks and balances to ensure that the panchayat samitis implement the project seriously and not just on paper.



The results speak for themselves. In just 21 days, they successfully constructed about 222 bandharas (weirs) as developed by Vanrai. These bandharas comprise of bunding the village nallahs with sandbags piled up in the shape of a dam. While Vanrai deposited 80,000 sandbags for the project, the respective gram panchayats also contributed with 60,000 bags. In this region, Kolhapuri bandharas used to be popular, but they are not only expensive to build but also difficult to maintain. According to Bhide, "A Kolhapuri bandhara requires Rs 50 lakh to harvest 390 TMC of water. Moreover, a regular state project would have taken more than a year to take off. About 1,000 Kolhapuri weirs exist in the district and less than 100 are functioning." On the other hand, bandharas like those made by Vanarai make use of the locally available sand and shram daan (voluntary labour) by villagers, thus eliminating the money and corruption factors.



The notable feature is that members from the state and society worked together. Girish Gandhi, working with Vanrai, said, "We have implemented this project in many places in Nagpur and Pune districts. But this is the first time that the district administration has implemented it on a large scale" - thus, marking a new beginning….





B B Hardikar


"We do not need bore wells. By spending a very small fraction of the amount that we would have otherwise spent on digging a well, we can catch still more water," says Bheema Bhat Hardikar, a farmer from Anavatti, Karnataka. He speaks from his three years of experience in rainwater harvesting that has ensured enough water for the nursery on a part of the 25 guntas of land that he owns. Adike Patrika, a local magazine, introduced him to the idea and he decided to implement it. A 700 ft stormwater drain around the farm has been dug. Ten earthen bunds are built at a cost of Rs 250 across the stormwater drain. An infiltration pit near the well collects the runoff from the drain. The excess water from the first infiltration pit flows into the second one and then, back to the drain. He has also constructed small trenches to divert all the runoff from the neighbouring areas to the storm drain. All these works have yielded good results.

For details:
Brahmin Street, Anavatti,
Shimoga DT 577 413
Karnataka
Tel: 0818 - 2467 110


Janaki
Illiteracy, poverty, five children to look after and belonging to a backward community have not thwarted Janaki - a woman in her 40s - to use her innovative skills and solve the persisting water problem in her village of Kepulakodi, about 32 kms from Mangalore, Karnataka.

To avoid a kilometre-long slippery walk down the hill during the monsoons, she came up with the idea of using her saree to harvest rainwater to meet her drinking water needs. First, she firmly fixed bamboo rods to the saree to keep it stable against heavy rains and winds. Then, its four corners were tied to bamboo poles, giving it a funnel-like shape. Thus, water could easily sieve into the pitcher. "Even 15 minutes of rain is sufficient to meet cooking and drinking water needs", said Janaki. Impressed by its user-friendly applicability, a local non-governmental organisation, Maithri Trust, is promoting it.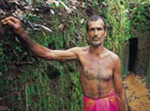 Kunhikannan Nair

Kunhikannan Nair's


Kunhikannan Nair looks very young for his 55 years. He carves surangams.
Nair's fields in Kodom Vellur village of Kasaragod district, Kerala, are lush green, with coconut, areca nut, rubber and pepper trees and a little paddy. Although plantations have mushroomed in northern Kerala, there is not much money to be made in the fields.

Nair recalls the sleepless nights he used to spend worrying about water for his fields. Kerala is one of the wettest states in India. But very little water actually gets stored due to the slope of the Western Ghats, despite the heavy monsoons.

At 53, Nair arranged for a Rs 5,000 loan from a cooperative bank to make his first surangam. Today, Nair doesn't have to spend sleepless nights any more. Thanks to his surangams, he has assured water supply for paddy. He is now able to save a lot of money which he would otherwise have spent hiring pump sets. The yield of coconut has risen. There is enough water for home and fields all through the year.



Popat Pawar
An enterprising sarpanch, Popat Pawar brought water, prosperity and respect to his village Hivare Bazar, in Ahmednagar, Maharashtra. With the support of the village youth, Pawar transformed his village from a 'punishment zone' to the one that got Maharashtra its first National Productivity Award for the best watershed work. He is an ardent follower of Anna Hazare and believes, "The development process needs both the state and society to work together. However, the society should always be on the drivers' seat and work responsibly."

It all started in 1989, when the youth of the village wanted a change. The village had about 22 liquor shops, and excessive gambling and violence had ruined its reputation, society, ecology and economy. The drought of 1972 had marked the beginning of a disaster and they wanted it to end. Pawar was elected sarpanch with popular support.



His was not an easy journey, but he never gave up. After forming the yuva mandali (village youth group), he concentrated on improving education standards. The village school was locked for two months till the state assigned good teachers. Pawar's first success, however, was also closely followed by his first failure. The plantation work that they had begun with was vandalised by some villagers. Henceforth, he decided to take up works only on demand. The entire focus shifted to building the moral base of Hivre Bazar in accordance with the path shown by Anna Hazare.



Once the attitude of the people changed everything started falling in place. Thanks to their diligence, in 1994 under the joint forest management programme, afforestation works were taken up, successfully. Today, the village boasts of a thick forest cover, maintained by the villagers themselves. In 1995, under Adarsh Gaon Yojana, watershed works were taken. About 52 earthen bunds, two percolation tanks, 33 loose stone bunds and nine check dams were built. With increased water availability villagers have diversified without encouraging unsustained water use practices. Even the state has acknowledged the efforts by funding a training centre for the sarpanches.



Pawar insists on using state funds for village development. He says, "It is our money and we want to use it for the purpose it has been allocated". Significantly, he is taking

Hivre Bazar

on the path on environmental self-reliance. He specifies, "For the past one-year, the people have taken all the decisions themselves. I am not even consulted, just updated". An inspiring journey, indeed.


V Radha and Manisha Mhaiskar


They are senior officers from the Indian Administrative Services (IAS) posted in Aurangabad and Wardha districts of Maharashtra respectively. Their style of functioning has ensured active community participation in developing water supply schemes, without spending a penny out of the state exchequer.

Initially it was very difficult for V Radha to convince the people of Sarola village to revive their 30-year-old percolation tank, which was running dry. Today, it is brimming with water. It is the only village among the 700 in Aurangabad district not to suffer from water scarcity. Things took a positive turn when, instead of financial support, she offered farmers to freely use the self-dug out silt from the pit. On its part, the administration has ingeniously modified the Employment Guarantee Scheme - allowing people do water related works for employment.





In Wardha, three schemes were already underway - Jalada, Sampada and Vasundhara - when Mhaiskar came on deputation. Her challenge was to consolidate and sequence the existing schemes to make water supply sustainable, by involving the community. The administration has ensured transparency at every level. The state government has applauded these initiatives, as replicable models.




Ravindra Shetye


Can mango and cashew plants grow successfully in a water-scarce land, without further degrading the environment? The answer is yes. Ravindra Shetye, a Mumbai-based ecologist has done it successfully by harvesting and utilising rain on his 60 acre and in Dahagaon village of Ratnagiri district, Maharashtra. On January 29, the Ashoka foundation conferred him with Ashoka Award'. It all started when in 1992 he decided to develop an abandoned land in a village with no electricity or any perennial source of irrigation. During monsoon, he conserved rain in stone-lined tanks, constructed on various sites of the plantation with the capacity to hold 0.2 million litres of water, ensuring frequent water for the plants for the first three years. Today, about 5,000 cashew and 2,000 mango trees have started giving the initial yield. The annual capital input is Rs six lakh. Shetye is now planning to share his gains with the entire Konkan region.

For details:
Socio-economic Eco Development
10, Amitchs, Whireless Road,
J B Nagar, Andheri (East)
Mumbai 400 059
Maharashtra





Shivanajayya


Shivanajayya is a person of many talents. He is the principal of a college, a writer, an organic farmer and a water conservationist.

He has a five-acre farm in Tumkur district, Karnataka. The soil in this region is red. Rainfall is highly erratic - as a result the farmers are completely dependent on bore wells. Following the practice, in 1990, he also got a bore well dug. The yield was good for the next four years after which it started falling. He was forced to lower the pump from 140 to 180 feet. Yet, the situation did not improve, adversely affecting the crops sown.





While trying to find a solution, he realised that barely 30 feet away from the bore well flowed a seasonal rivulet, which had water till the month of January. This encouraged him to go in for an artificial recharge technique.



A deep trench was dug from the casing pipe to the riverbed ensuring a regular supply. Blue metal was spread around the pipe and the trench was refilled with soil. To check the inflow of leaves or other materials, a mesh was tied on the outer end of the pipe. Expenditure was not more than Rs 1,000, and the results are worth noting. The output has doubled and the bore well runs for more than six months a year.

For details:
Kadalivana, J C Pura,
Chikkanayakanahalli TK,
Tumkur DT 572 214
Karnataka




Vilasrao Salunke
Prominent water warrior and founder of paani panchayat, Vilasrao Salunke, passed away on April 23 2001 following a heart attack. At the time of his death, he was 65. Salunke has been closely associated with CSE. He initiated a system of equitable distribution of water through a people's council. In this system, the number of family heads with no land holdings decides the water distribution. He is widely recognised for his zealous effort to promote community-based management. His works were acknowledged and honoured with the Jamnalal Bajaj Award in 1985, and the Stockholm Award in 1986.

For details:
Gram Gaurav Pratisthan
113 St Patriks town,Cooperative Society
Pune-411013
Tel-020-670158/9,670285
S

hree Padre




Popularly known as the 'rain man of Canara Coast', Shree Padre has used his journalistic skills to create a strong farmer network throughout western Karnataka and north Kerala.



It all started with Adike Patrika, a monthly newsletter launched in 1988 to give farmers a voice. Several 'writing workshops' were conducted for the interested farmers. He encouraged them to share their problems and solutions through the newsletter. Padre has also come up with the idea of 'Samruddhi', a group giving voice to those farmers who can neither read nor write. Once a month, the group organises a meet, where farmers just discuss various issues and then the dialogue is edited and published in the Patrika. In 1995, Adike Patrika started a series on the various ways in which people conserve water. "I constantly stumble upon a farmer or a householder who has devised a novel method. They are often simple but suited to the situation", says Padre. Recently, he has started sharing these stories with the CSE newsletter Catch Water as well, widening the network.

For details:
Avinger via Perla 671 552
Kerala
shreepadre@sancharnet.in


T R Sureshchandra


"When knowledge is combined with careful observation, solutions are bound to be found," says T R Sureshchandra, an arecanut farmer from Kalmadka, Karnataka. This is the way he solved his water related problems.

It all started in 1999, when he dug a 205 feet deep bore well as a supplementary source of irrigation. He used 15 sprinklers. The yield was good. However, to his dismay a year later the yield started dropping. A thorough examination revealed that on the side of this bore was a rainwater harvesting tank and in monsoon the excess runoff used to overflow touching the casing pipe - yet there were no signs of significant natural recharge.



Suresh, a regular reader of Adike Patrika, a local farm magazine, had some idea about artificial recharge. He started feeding the dry well by siphoning water from the tank during the monsoons. Positive results encouraged him to revive another farm pond to ensure sustained irrigation supply.

For details:
Tottethody House
Post: Kalmadka
Karnataka


<<back