T

he Alwar quartzites of Delhi system exposed in the area belong to Pre- Cambrian age. T

he quartizites are pinkish to grey in colour, hard, compact, highly jointed, fractured and weathered. These occur with interbeds of mica- schists and are intruded locally by pegmatites and quart veins. The strike of these rocks varies north east - south - west to north northeast – south southeast with steep dips towards south east and east except for some local variations due to folding. The prominent joint sets are strike joints, bedding joints and dip joints. Quartzites are ferruginous and gritty types on weathering and subsequent disintegration give rise to coarse sand (Badarpur sands). Chemical weathering of deer horizons is also common.



CLICK TO ENLARGE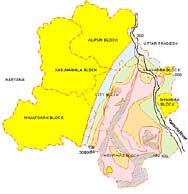 T

he exploratory drilling undertaken has brought out the subsurface configuration of rock formation and depth to bedrock is different parts of NCT of Delhi. The nature of bedrock topography is rendered uneven due to existence of sub surface ridges. Thickness of alluvium overlying the quartzites increases away from the outcrops. The thickness of alluvium is 300m or more in most parts of Najafgarh, Kanjhawala and Alipur blocks while in the south eastern parts of Alipur block, it varies from 100m to 300m. In the eastern parts of Najafgarh Block, the thickness range is from 50m to 300m. In the city block, west of the ridge, the alluvium thickness increases away from the ridge to 300m or more. East of the ridge, in the area upto river Yamuna, the alluvium thickness is comparatively less to about 165 m. East of river Yamuna covering parts of city and Shahdara blocks, the thickness ranges from 48 to 240 m. In the Chattarpur basin of Mehrauli block, the alluvial thickness varies from a few metres near the periphery to 115m around Satbari bund.
| | | |
| --- | --- | --- |
| Location | Nature of bedrock | Depth to bedrock in m. below land surface |
| Willingdon Hospital | Quartzites | 35.66 |
| Lady Harding Hospital | Mica schist | 42.00 |
| Silver Jublee Hospital | -do- | 145.00 |
| Irwin Hospital | -do- | 22.86 |
| Vikas Bhawan | -do- | 107.30 |
| Ranbaxy Laboratory,Okhla | -do- | 39.01 |
| Okhla Industrial Area | -do- | 46.93 |
| West Patelnager | -do- | 63.70 |
| Malaria Institute | -do- | 24.38 |
| Swiss Embassy Diplomatic Enclave | -do- | 33.35 |
| Australian High Commission | -do- | 30.48 |
| Swatantra Bharat Mills | -do- | 150.87 |
| Delhi Transport Undertaking Depot Vinaynagar | -do- | 28.95 |
| Indra Prastha College for Women,Alipur Road | -do- | 25.3 to 28.35 |
| National Physical Laboratory,Pusa | -do- | 8.23 to 13.41 |
| S.O.C. Petrol Pump,Mathura Road, Palam Airport | -do- | 16.46 |
| Karewal nagar(Shahadra Block) | Quartzite associated with mica-shist | 198.8 |
| Kichripur(-do-) | -do- | 105.93 |
| Madanpur(-do-) | -do- | 137.00 |
| Manduli(-do-) | -do- | 42.67 |
| Dhansa(Najafgarh block) | Quartzite associated with schist | 297.00 |
| Pindwala Kalan(-do-) | Quartzite | 300.10 |
| Chitorni(Chatter basin) | Weathered quartzite | 64.00 |
| Rajpur(-do-) | -do- | 90.83 |
| Satbari bund(-do-) | Quartzite | 125.00 |
Source: CGWB, New Delhi